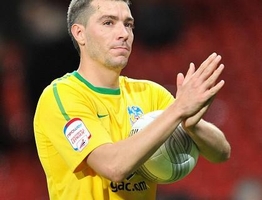 The 27-year-old midfielder's stunning strike helped Palace pull off a major shock in November when they dumped the Red Devils out 2-1 in the quarter-finals and former United defender-turned-TV pundit Gary Neville claimed the 35-yarder was the best goal he had seen from a visiting team at Old Trafford in 20 years.
Ambrose admitted: "After Gary Neville's comments I had about 100 texts from people telling me what he had said, so hopefully I can do it again. I didn't actually know how far I was out until I watched it back. I'm always looking to shoot, I love scoring goals, but if it was a one-yard tap-in I'd take that."
Ambrose, who was with the Eagles when they were in administration and on the brink of going out of business, is now 90 minutes from a Wembley meeting with either Manchester City or Liverpool.
Palace lead npower Championship rivals Cardiff 1-0 going into Tuesday night's second leg, so they know a clean sheet in Wales will take them to a major final for the first time in more than 20 years.
But Ambrose warned: "If we go into the match with that attitude then we will get turned over.
"We played Cardiff two months ago and lost 2-0 and and if it is the same score they'll be through.
"We have to go in with the attitude that it is 0-0 and we need a goal. If we can score once then they will have to score at least three times over 120 minutes.
"If you can't enjoy games like this then you shouldn't be playing football. These are the games you dream of when you are growing up. Big nights like this in the semi-finals.
"We're not nervous at all. We are 90 minutes away from a big cup final but I think if everyone can go out there and enjoy themselves we'll be all right."
Source: PA
Source: PA