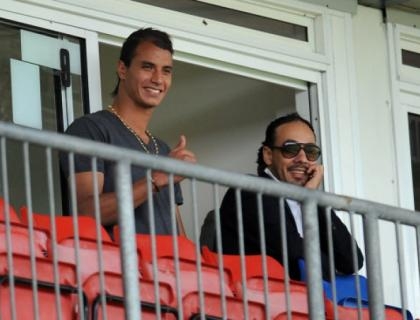 Holloway: Experience will help

Crystal Palace manager Ian Holloway is hoping his prior experience of the Barclays Premier League can help him in his quest to keep Crystal Palace in the top flight.

The 50-year-old guided the Eagles back in to the Premier League through the play-offs last season and is now preparing his squad for the challenge of hosting Tottenham in their season curtain-raiser on Sunday.

Holloway tasted a solitary season in the Premier League with Blackpool but, although he and his players earned plaudits for the way they played, the Seasiders ultimately slipped back into the second tier.

Now Holloway is ready to use those experiences and lessons of taking on the biggest and best teams in the country to ensure Palace can survive for more than just one campaign.

"I think every year of your life you should learn and think about what you have learnt over and over again to improve yourself," he said

"You have got to deal with disappointments and upsets and then bounce back and get there and we had a great run at it.

"We [Blackpool]were predicted we would be the worst team ever - we wouldn't even get 10 points, that is not nice."

Holloway has already added nine players to his ranks at Selhurst Park following the 1-0 play-off final success against Watford, a result he felt was masterminded because of those trying times with Blackpool.

"I've learnt an awful lot and I felt that helped me in the play-off situation," he added.

"I have got a different group of players at a different club but hopefully my experience in this can help everyone around me."

Known for employing an attacking philosophy for the majority of his time at Bloomfield Road regardless of the opposition, Holloway has conceded he may have to play a little more defensively this time around.

"Hopefully we can stop the opposition doing whatthey are doing," he said. "We can break it up and then go and score ourselves and get three points instead of none and get to 40 points so we can do it again [next season].

"What I've got to do is stay calm, keep my feet on the ground, keep working and keep being realistic.

"I need to give them tactics that I have picked up along the way that might stop some of these teams who have got technically better players."

Holloway is likely to hand a number of competitive debuts to summer signings but he will be without injured club captain Paddy McCarthy, midfielder Yannick

Bolasie and new recruit Jerome Thomas as he looks for a good start at home to Andre Villas-Boas' Spurs.

Tottenham boss Villas-Boas expects his team to walk in to a cauldron of hostile noise when they take on Palace at Selhurst Park.

After a summer spent batting away questions about Gareth Bale's future, Villas-Boas is looking forward to returning to the dugout as Spurs look to start the season with a win.

Although Villas-Boas will be without Bale, who has a foot injury, for the game, the Spurs boss has the luxury of having four new signings available for the game in south-east London.

After a summer of frustration in the transfer market, Holloway's team are favourites for the drop, but Villas-Boas is wary of under-estimating the newly-promoted side on Sunday.

Given that the fixture will be Palace's first in the top-flight in eight years, Villas-Boas expects a raucous atmosphere at Selhurst Park.

"It will be a difficult game because of Selhurst Park," Villas-Boas told Spurs TV Online.

"As a stadium, it's very hard to play in, there will be lots of emotion and intensity, and it's always difficult to play against a team that has just come up."

While Spurs have spent almost #60million on new signings, Palace have struggled to add any experienced players to their squad.



To make matters worse, two of the club's key players from last year, Glenn Murray and Bolasie, are injured, as is new signing Thomas.



Villas-Boas still expects a competitive game from Holloway's side, though, partly because he has not been able to draw on the experience of playing Palace last year in his usually thorough preparation for the match.



"Obviously Palace have a couple of problems - they are trying to put their team together, but we don't know them as well as other teams, and that is always a factor," the 35-year-old said.



"We have to be disciplined in that respect and hopefully with the quality we have, we hope that can make the difference and we hope can bring back the three points."

As well as Bale, defender Jan Vertonghen is doubtful due to an ankle injury he suffered in pre-season while midfielder Lewis Holtby misses out with a knee injury.



Striker Emmanuel Adebayor will not feature as he only returned from compassionate leave on Wednesday while midfielder Scott Parker is expected to be left out of the squad as he is in talks with other clubs about a move away from White Hart Lane.





Source: PA
Source: PA