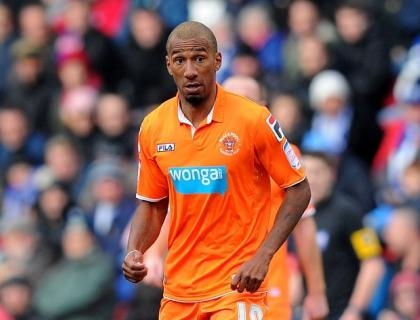 Eagles manager Ian Holloway worked with the 25-year-old midfielder at Blackpool and the deal, which is subject to Premier League and Football Association approval, includes an option for a further year.
"I'm very excited. I had a very good year in the Premier League with the gaffer, so I'm excited to start the new season," Grandin told Palace Player.
Former France Under-21 international Grandin left Caen for Marseille in 2008 but, having helped the French giants reach the Champions League, he fell out of favour.
A spell with Bulgaria's CSKA Sofia followed until Holloway took him to Blackpool in 2010, and he stayed with the Tangerines until his release earlier this year.
A 45-minute spell in Palace's pre-season victory over Dagenham and Redbridge convinced Holloway to sign him for a second time.
"We had a very good run at Blackpool. The team played well but we were unlucky at the end because we went down," Grandin said. "We had a very, very good year though, we enjoyed it and I hope it will be the same with Crystal Palace.
"The Premier League is very nice because every game is a new challenge. It's like a cup final in every game.
"You play against great players, great teams, so you have to be focused on your football and everyone has to give their best because it's a difficult league.
"I believe it's the best league in the world because all the teams are very good.
Source: PA
Source: PA