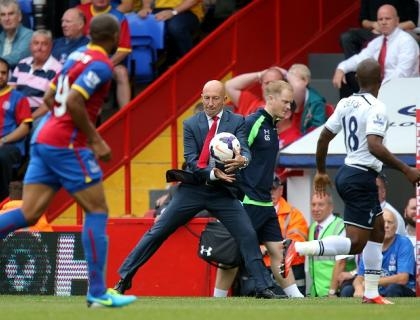 The Eagles' return to the Barclays Premier League was settled when debutant Roberto Soldado opened his account for Spurs with a second-half penalty that Holloway vigorously contests.
But his real anger was reserved for the officials' failure to spot what he views as a deliberate foul by Nacer Chadli on Stephen Dobbie shortly before referee Mark Clattenburg awarded the spot kick.
Holloway was significantly delayed in arriving for his post-match press conference after waiting 38 minutes to speak with Clattenburg about an incident that soured his afternoon.
"I've got to learn what a foul is because I thought Nacer Chadli deliberately body-checked Stephen Dobbie, smashed him down and ran off with the ball," Holloway told the BBC.
"If the referee didn't see that, the assistant should have. You have to ask if he's good enough if he didn't see that. I don't see how he can miss it.
"It's going to be a long, hard season for me with these people (referees). I had this with Blackpool. Certain clubs get fouls and others don't. Tottenham will feel that if they play Man United.
"Do I think I would have got that at Tottenham? No I don't. I just want a bit of fairness. I want a foul like anyone else would have got one. I've got a horrible taste in my mouth after that."
Holloway also took issue with Clattenburg's decision to award a penalty after Dean Moxey handled Aaron Lennon's cross with an outstretched arm in the 50th minute.
"That was a completely and unbelievably dubious handball. Was it deliberate? I don't think he had a chance," he said in his press conference.
Source: PA
Source: PA