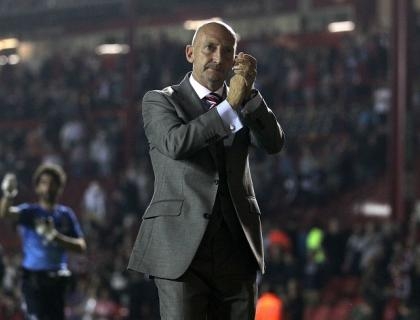 The former Bristol Rovers boss made 11 changes to the side beaten 2-1 at Stoke on Saturday and his youngsters fell behind to a fantastic solo goal from Jay Emmanuel-Thomas just before the hour-mark.
Scott Wagstaff's half-volley put the Robins in the hat for the third round before Owen Garvan netted a stylish consolation in added time with a thumping finish.
And with Glenn Murray, Jerome Thomas and Yannick Bolasie sidelined and Wilfried Zaha having moved to Manchester United, Holloway will continue to search for the strikers and wingers he believes the Eagles require if they are going to have a shot at top flight survival.
He said: "It is obvious isn't it? We need some widemen and we need to address the goals and that is what we'll be doing.
"The main thing for me is that we've lost two of our main players who were really important for us last year in Glenn Murray with his injury and Wilf. (Zaha)
"And you add the new lad I bought in Jerome Thomas and Yannick Bolasie to that and we aren't quite the same. It makes a huge difference.
"It certainly will be a busy rest of the week. I don't know where it will go and who we will end up but we will get some - you can see we need them.
"I can't tell you how many, it will be quiet a few. I've got loads of plates spinning but it is so hard to get deals over the line these days, even in the Premier League. The closer it gets to that window the prices go up.
"I'll try and do what I can and the chairman is helping me as much as he can. Hopefully at the end of it all we'll have some sort of resemblance of a squad that can galvanise and do a little bit better."
Source: PA
Source: PA